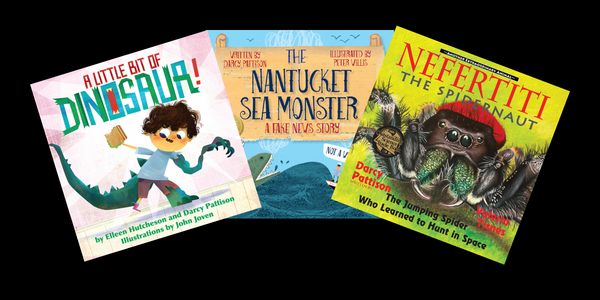 Kids Choose - Nonfiction Picture Books
91% of kids say their favorite book is one they chose themselves. (Read the full blog post.) This collection is designed to help kids practice choosing a great nonfiction picture book.
NARROW CHOICES: First, this collection narrows the choice to one of three nonfiction picture books. It's important that they are each very different from each other. 
DECIDE ON TODAY'S PREFERENCES: Ask kids this question: What kind of nonfiction book are you looking for today? (Sample answers: I like animal stories. I want something funny.)
READ ABOUT CHOICES: Then read the short description below and look at the book covers:

NEFERTITI, THE SPIDERNAUT. When a spider jumps in space, what will happen? They float away. Will Nefertiti learn to hunt in space?
THE NANTUCKET SEA MONSTER.

Early in August 1937, a news flash came: a sea monster had been spotted lurking off the shore of Nantucket Island. Was this a true story or was it fake news?

A LITTLE BIT OF DINOSAUR. Did you know you have a little bit of dinosaur in you? And it's your mother's fault!
DECIDE. Let kids decide on which book they'd like to read. Emphasize that they should choose a GOOD book. They don't have to find the BEST book.